Here we are, the last day of 2018. New Year's Eve and day are always a time to reflect on your life. We set new goals or resolutions, we think about everything that happened in the past year sometimes with happiness and other times with sorrow. I think this year was my most transformative. I've never wanted to blog more about a year then I do of 2018. Why? Because this year started out horrible, I mean one of our lowest points, and it ended so dramatically high that I just know I need to share it with all of you so you can see how much your life can change in a short time. I want to show you that life can get better, after all we all need to know that things will get better, and please understand me when I tell you that it can and will change!! So join me as I reminisce…..
This was a great month, I got to take Brian to Texas for the first time. He got to meet all of my family there and I got to get a picture of a future I have always wanted. The best part is it ended with us finding out we were expecting again!
What a beautiful start to my year! But unfortunately Brian and I would suffer another loss. Our third angel would never make it to this world. I need you to understand something. I have 4 healthy, amazing children. Brian has a beautiful son, and we by no means feel as though we need a child together to feel complete, but my goodness when you find out that you have created life with the person you love more than yourself…that is the most amazing, euphoric feeling and when it is taken from you it is a loss that hurts so deeply that you bury it deep. Together we yet again found ourselves at the same hospital, having the same procedure we just had less then 6 months before. It was heart wrenching to say the least. We were in the middle of wedding planning, and dealing with court issues with my ex, it was all so overwhelming! Because of our miscarriage we had to reschedule our wedding and we lost our wedding venue. Talk about dark days!! I just felt so incredibly low. I wanted so bad to just escape from reality, I couldn't come to terms with the why's. All I knew was my heart was so broken, Brian's heart was broken and together we had to find a way to deal with our pain. I remember one afternoon I was sitting on the couch in a haze of numbness. Brian was sitting across from me watching tv and all of a sudden I just burst into tears. As he tried to find out what had caused my outburst I blurted out to him, I think God is trying to send us a sign that we aren't meant to be together…I mean why else would he allow us to suffer a third miscarriage??? Brian looked over at me, tears in his eyes..a pain that I was all too familiar with and he said, Lissa please don't think just because I'm trying to remain strong for you that I am not hurting just as bad as you, and it's unfair for you to say things that are so hurtful and untrue. Instantly I felt such shame and hurt for trying to hurt the only other person who was feeling my pain!!! I knew at that point that God wasn't putting us through all of this pain because he didn't think we should be together, yet he was giving us strength and a love to help us endure our pain together. From that day on I started to move forward, planning our wedding and putting everything else in God's hands!
Learning to heal is a process, one that takes time and patience. For us we just needed to find joy in the little moments. Of course our children were a huge part of that, but learning to reconnect as a couple was key too. When you experience a loss with your partner it can either divide you or bring you closer together, but that has to be a choice you make. You have to learn to completely rely on the other person, crying, talking and being there for them as much as they are for you. Sometimes this is hard because naturally a lot of us use our defense mechanism of shutting down during times of pain and hurt, but again it is a choice you have to make to stay connected and allow your partner to help you through it. These choices are not always easy, by no means do I want to paint a pretty picture of one day waking up and being okay. We spent many nights distant numb but we were together. Brian has the same love language as I do, which is touch. We are physical affirmation kind of people and while we are watching tv at night, or laying in bed, his hand is always on me. I began to notice it even more and allow that touch to be my comfort, my sign that things would be okay. We also made sure to go on as many date nights as we could. It could be a simple trip to the grocery store that we did together, we began to use any excuse to be out together as a "date night". I began to focus on everything I was blessed with, and it was and is a lot.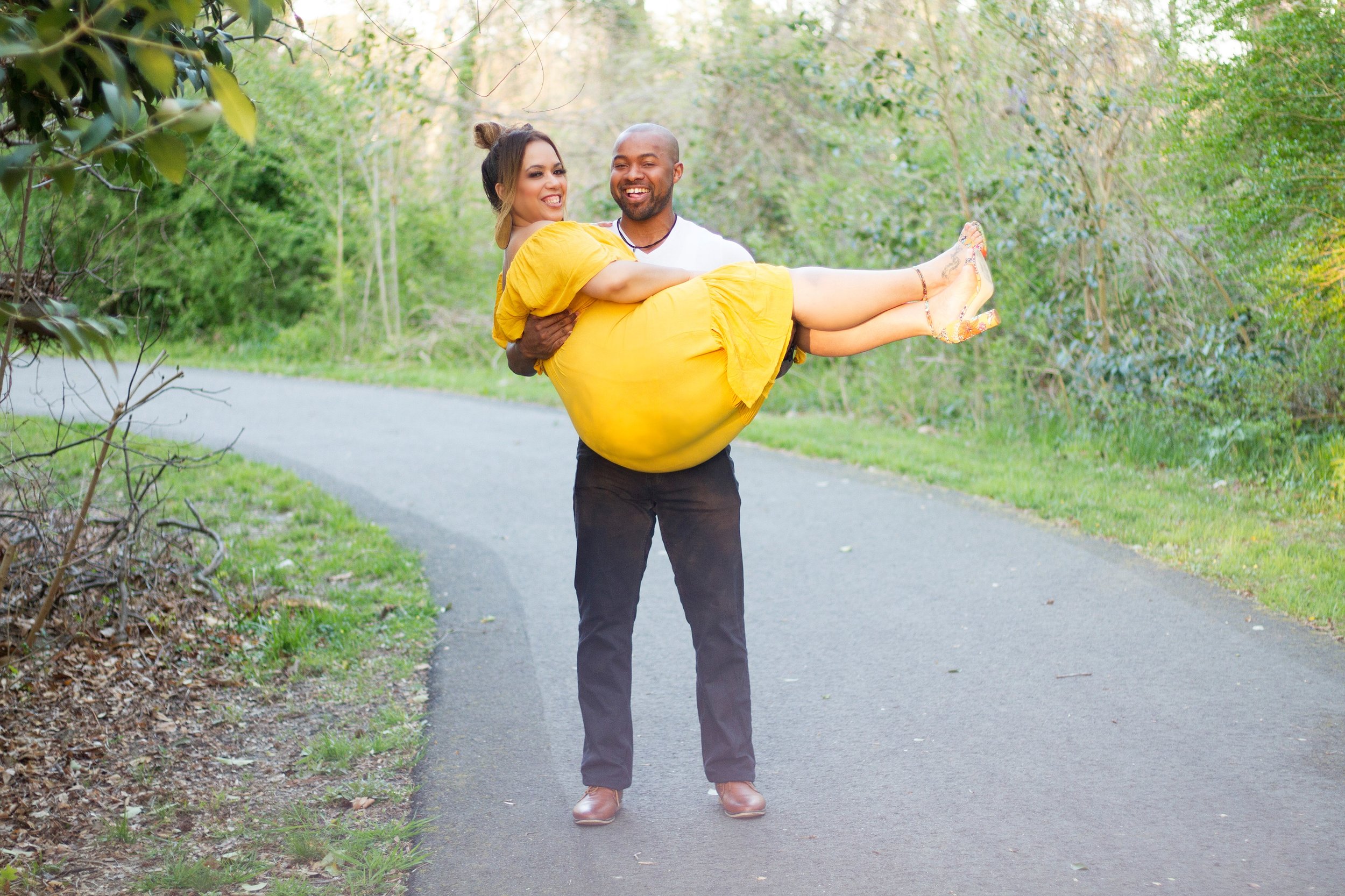 April 2018
We decide to go away for our anniversary because that is the day we were supposed to be married! We went back to the place that our love story began, Richmond Va. We went to all the places we went on our first date, we found new places to make memories in and we reconnected in a way that only proved what I already knew, that we would be okay.
God knew what he was doing! One of the greatest days of my life!! My first grandchild was born and she has been my angel, healing my broken heart. She is the most perfect human and everyday I thank God for allowing her to be in my life and showing me that God never forgets us, he always knows exactly how to heal us!
May was a great month! I gained a huge blessing and was able to put to rest a battle that I had been fighting for almost 10 years!! I could finally see the light, and I could finally hear God in the midst of all I had been through. It was time to finally get ready to be Mrs. Borden!!!
I could go on for days about this day, but I will just say that nothing is impossible. Marrying Brian proved to me that nothing worth having will be easy!! We have endured so much but this day proved that the girl who got pregnant at 17, who tried desperately for so long to be loved the right way by others, who allowed people to treat her badly as long as they showed her attention, that girl..the girl that came with 4 kids, an imperfect body, who was no longer in her 20's…that girl deserved to be loved and finally found the man who could and would love her better then anyone else ever could! It made every tear, every heart break worth it and after our wedding it put us on a new journey to better our lives..give our children a better future and now we get to do it together!!
And here I am writing this, tears in my eyes at how much I have changed this year. After my wedding I started to set goals for my life with Brian. I knew that I wanted to truly pursue a dream of running my business, completely without having a 9-5 as a backup. So with the support of my husband, I focused solely on my businesses and guess what, they started to thrive!! I am ending this year with more business then I have ever had…EVER!! I have so many orders to fulfill it keeps me up at night, but wow…I'm actually doing it!!! To top it off, I was invited to do my very first podcast to talk about my blog and businesses and it was soo much fun that I cannot wait to do another one!! Huge thank you to 75Junction for the amazing opportunity!! Just click the pic below to go watch it!! I feel like this interview is a preview of the upcoming year, yet another sign that i'm on the right track!
So 2019, I'm ready for you!! I now know that i'm capable of truly going through hell and remaining positive and focused! I'm ready for new business ventures, sharing my life more with all of you, loving my family , welcoming my newest granddaughter soon after we wish a happy 1st birthday to my first granddaughter, lol!! Seriously I think I was put on this earth to love. My heart has been trampled on, took advantage of but it keeps beating for those around me…including you!!
I honestly need to thank every single one of you who have been a huge part of how i've been able to evolve and get through the tough times. You sent me encouraging words, you prayed for me, sent positive vibes out and I felt it all. Whenever I feel like i'm babbling on or talking about something that you may care less about, I get a message from someone who tells me they need to hear me. There is nothing better then knowing you are able to help someone from all the ugly stuff you've been though!! You have been the ones to support my small business, to tell me to keep pushing when i'm exhausted! You have been the ones to bring a tear to my eye whenever I get a message telling me that you never were able to truly start loving yourself and your body until you saw me doing my best to love mine! I mean guys, that is some powerful stuff right there and I DO NOT take it lightly!! I have decided my mission in life now is to show you all how to live your best lives!!! Be authentic, LOVE without restrictions and without fear because guess what, we will all get hurt in our lifetime but all we want is to feel love and we can truly find it but we have to be willing to love 100%! Whew I said love like 10x there lol. But seriously I sum up 2018 with one word…LOVE. And i've decided I want to go into 2019 with one word…Goals!! Watch me crush them all, set new ones, dream HUGE and not let self doubt creep in! You want to go on this journey with me?? Then let's start by telling each other our first goal of 2019. Mine will be my health, to stay focused, go to the dr's appts that I keep putting off and show myself that I can have a healthy relationship with fitness and food!! Now let me hear yours….